Bex Mason specialises in producing showjumping competition horses. Based in Gloucestershire where she has a strong team of up and coming world class equine competitors competing across the UK and Europe. We chat with Bex Mason to get her show preparation grooming tips, showjumping plans for the future and advice for anyone starting out!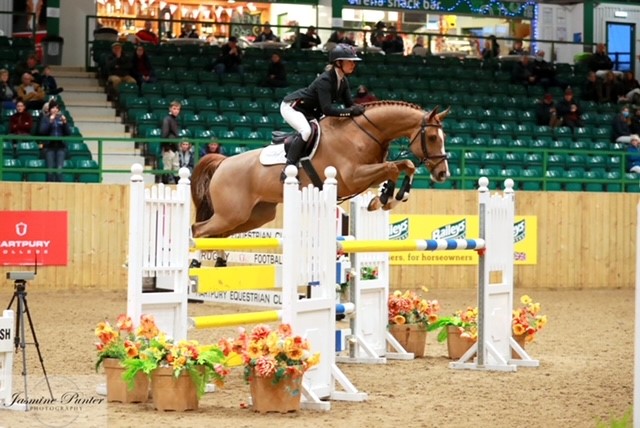 1. How did you get involved with horses?
I knew from a young age the addiction is real 😂 The horses on the common used to send me crazy with excitement from the age of 4. My babysitter had a horse and let me come to the stables to look after the crazy farm pony, I was in heaven and from there you couldn't get me away.
2. What level to you compete at?
We have a range of horses that I compete with from age classes horses to Grand prix.
3. What has been the highlight of your career so far (big or small)
Fohunter Final and talent seekers final in the same year at HOYS on Vancurtis a horse I started at 3yo, it was a very special HOYS for me.
4. Has there been a special horse in your career so far and why?
I have to name two! Miserden Imprezza had over 180 wins after being gifted to me, I believe she got me noticed on the circuit, brave as a lion, no turn in a jump off was too much. Then of course the wonderful Vancurtis who has taken me to 2 world breeding championships, 2 Horses of the year shows and won at numerous big venues. The bond with these two girls is really special, they both have grit and a passion for the job as much as I do.
5. What is your favourite part about competing?
The process. watching the scruffy 4yo bloom into shiny strong athlete. I find attention to detail in everything from training to turnout leads to happy horses, happy owners, happy riders.
6. What products are always in your grooming kit?
CDM –Tea Tree Hoof Oil, for the finishing touch show shine and everyday hoof care.  Canter Mane & Tail conditioning spray has been my saviour this winter. I find keeping the horses manes soft and grease free all winter has stopped the manes from rubbing out with the neck rugs-we no longer have the dreaded half mane look coming out of winter!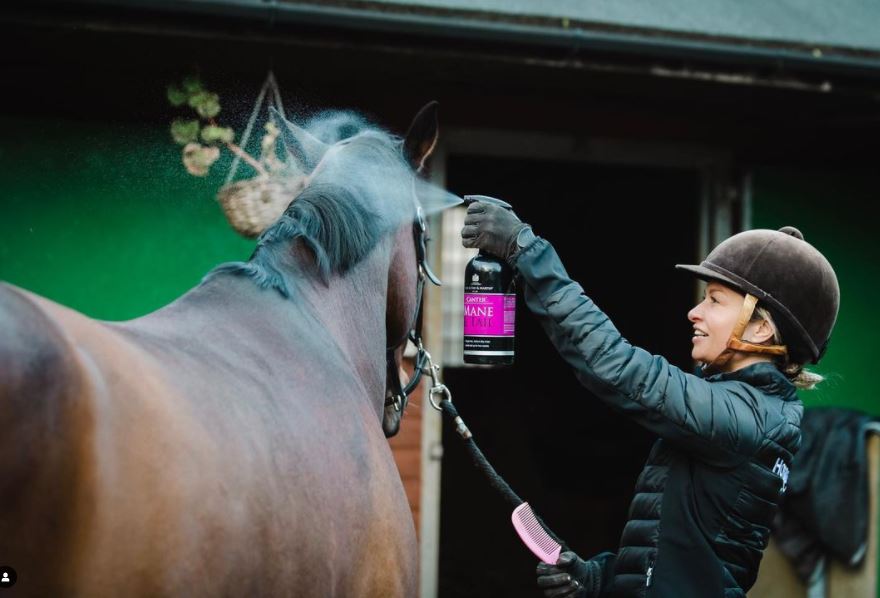 7. Do you have a favourite Carr & Day & Martin product? If yes, we would love to know how it helps for show day preparation.
All of them! Gallop Stain Removing Shampoo is so good for the greys to have a good bath the day before the show. It really gets those yellow stains gone, you know its good when a grey actually has a shine!
Dreamcoat has strongly become my new favourite, so adaptable for a quick spray for a gleaming shine and it smells amazing. There are few ways  you can use it. I couldn't do without Stain Master, we had four greys on the team last year. brighten the whites and last minute poo stain removal…lifesaver. I have got many fellow competitors on the Stain Master bandwagon😆
8. Do you have a top tip for getting your horse looking their best at competition?
All of our horses get hot clothed before leaving for a show, the horses seem to really enjoy it. We use hot water in a bucket, spray some Dreamcoat in the mix and use a flannel type cloth to dip in the water squeeze out excess and wipe all over, it removes layers of grease and gives an awesome finish to their coats. I suggest always doing the heads first when the water is at its cleanest.
Prepare and always give your self plenty of time. You may have bathed the night before but you can guarantee the biggest poo was the best pillow the night before a show😂
9. What is your post competition grooming routine?
All of our horses have a bath in Gallop Shampoo the day before, Mane & Tail in their tails and plaited over night.
In the morning they get hooves picked and brushed, tails unplaited brushed and replaited, the grey ones have them bandaged up for travelling.
Any big stains get a sponge and Stain Master and generally white socks get a spray or two as really does brighten the whites!
Every horse has a hot cloth with Dreamcoat starting at the heads, around eyes and nostrils ,being sure to dampen down any ruffled hair from lying down and extra attention to hocks and knees,
when we are at the show e finish the look with CDM Tea Tree Hoof Oil!
10. What are your plans for competing in the future?
Really excited about our team for this year, the young horses are a year older and will be quietly stepping up to do some HOYS qualifiers, and I have Vancurtis back on the team with hopes to aim for some world ranking classes at the end of the year!
11. If you could give one piece of advice to a young equestrian starting out, what would that be?
'if you can dream it you can do it'  I love this quote, to keep believing you can achieve something will open doors and path a way to get where you want to be, remembering nothing good was ever easy otherwise everyone would be doing it.
Find Bex on Facebook & Instagram
Would you like to feature in our Grooming Spotlight? Email Us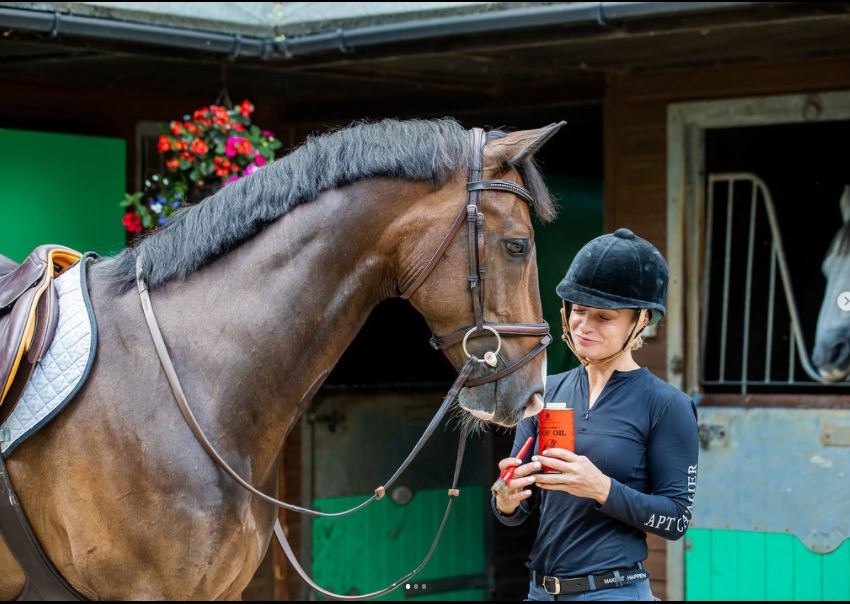 ---