We can all agree that winter makes everything harder, including horse care. Thanks to our Dark Night Saviours we can at least make your grooming and horse care routine a little easier and make your efforts longer lasting.
FIND YOUR LOCAL STOCKIST NOW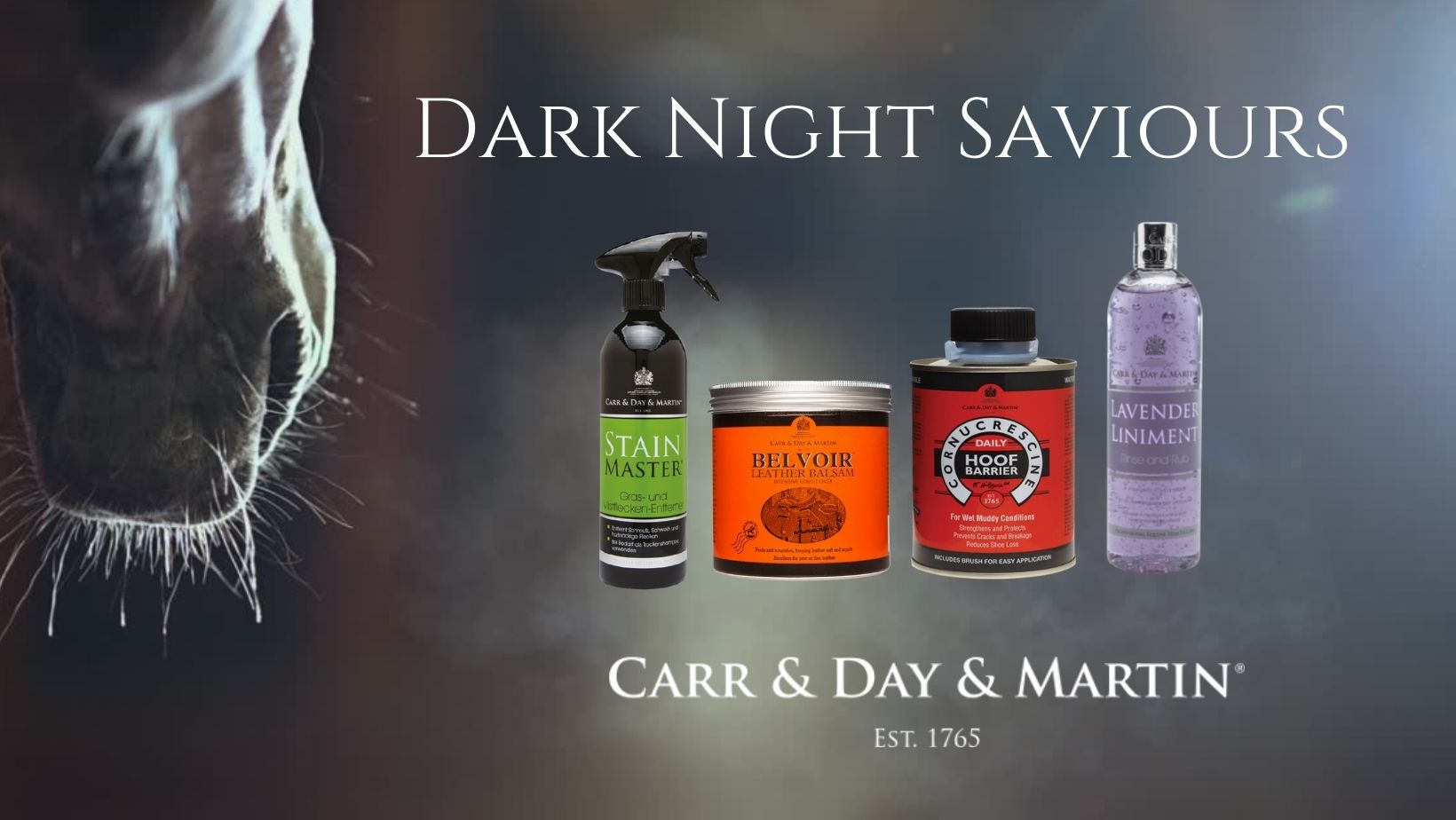 Let us introduce you to a winter essential from each of our Care Categories
Belvoir Leather Balsam Intensive Conditioner.
Cornucrescine Daily Hoof Barrier

LEATHER CARE
Starting with caring for your tack in winter and protecting your investment
Despite your best efforts, tack can easily get wet during the winter months. Whether it's during a day's hunting, or thanks to a splashy wet arena or even a leak in the tack room… it happens.
The key is caring for the tack correctly to minimise potential damage.  Learn more about your investment HERE
How does water Affect tack?
When leather becomes waterlogged, the inner fibre becomes stretched to accommodate the absorbed water. In this state, the leather is then weakened as the fibres are distorted from their normal strong organisation.
As the leather dries, the conditioning oils evaporate with the moisture, leaving the fibres with little or no lubrication. They then stick together in clumps leaving the leather feeling stiff and dry.
It is essential to lightly condition the leather whilst it is still wet, permeable, and responsive.
Top tip, Always wipe off dirt and mud carefully, before it has had the chance to dry and then for that TLC magic, apply Belvoir Leather Balsam Intensive Conditioner.
Belvoir Leather Balsam contains lanolin and beeswax to feed and condition leather. The soft wax formula lightly oils the leather, keeping it supple.  A little goes a long way!
Apply a layer all over , leave to soak in for 10 minutes and buff to a high shine
Haven't cleaned your tack since your last show?
You are not the only one. Don't feel bad but do  give your tack the attention it deserves. Round up the other guilty culprits in your yard and arrange a Tack Care Party!
To learn more about the best way to revitalise your tack after a few months of non-use click here.
The perfect finishing touch to this process once again will be the Belvoir Leather Balsam as it will nourish dry brittle tack and breathe life back into it again.
COAT CARE
STAIN REMOVING IN THE DEPTHS OF WINTER …. NO ONE LIKES A COLD SHOWER IN THIS WEATHER 
We feel for all the Grey horse owners out there! Dealing with those stable or grass stain that will not come out, no matter how much you scrub. And everyone knows someone with a muck monster bay or chestnut.
Stain Master®  is the master of dissolving dirt and stains without the need to rinse. Apply to stains or white markings, massage, and simply wipe off with a damp cloth. Essential during the winter months and for on-the-spot touch ups – a must have.  You and your horse will thank us
This grooming saviour is the perfect solution to removing those annoying stains after a trailer journey… your pre-event prep won't be wasted when you can quickly remove those greens spots (big and small) and get back to looking as clean as when you left the yard. You can even forget your chalk as Stain Master formula not only cleans but also whitens and brightens .It is definitely one of those products you try it to believe it!
HOOF CARE
Care of the hoof is crucial all year round – but particularly important in the wet winter months.
The wet weather can prove so problematic to horses, especially those kept outdoors.
Hooves can become waterlogged and weakened, just like our nails when we've been in the bath too long. Without adequate care and protection common problems such as thrush, bruising, abscesses and the loss of shoes can happen
The hoof is probably the single most important part of the horse's body, acting as both the vital load-bearer and a shock absorber.  As the old adage goes – "No hoof, no Horse".
Carr & Day & Martin's Cornucrescine Daily Hoof Barrier has been scientifically developed to strengthen and support the hoof structure, improving hoof health and shoe retention.
It does this by creating a one-way barrier, allowing the hoof to breathe naturally yet repelling moisture and guarding against excessive absorption of water and urine.
Applied daily, it protects the sensitive hoof tissue against bacteria and excess moisture, whilst nourishing and maintaining healthy hooves.
An integral brush aids quick and easy application before turn-out. It is particularly useful for soft and crumbly hooves, and regular use will both strengthen and waterproof the hoof.
 If your horse regularly loses shoes in wet weather, this is the product for you!- Try it to believe it! And let us know what you think
Used in conjunction with the Great Grandfather of Hoof Care, Cornucrescine Original Hoof Ointment, which accelerates hoof growth and aids restructuring – you can be safe in the knowledge your horses hooves will have the best possible protection against the elements this winter
HEALTH CARE
We know there is a growing trend for warm water washes in winter, to cut through grease and sweat, and we have a great relaxing treat. Lavender Liniment has the well know relaxing scent but also works to soothe muscles
If you haven't used a liniment before, it is a topical liquid for rubbing into the body to relieve aches and stiffness.
To use as a relaxing and refreshing wash
Dilute one part Lavender Liniment to 20 parts warm water. Dunk in a cloth or sponge, squeeze out excess water and rub all over your horses body. If using after exercise pay particular attention to those hard working muscles.
If your horse is working hard this winter, you can also use this product neat and just rub into those tired muscles.
The key ingredients will do the rest!
The ultimate pamper experience for your horse this winter!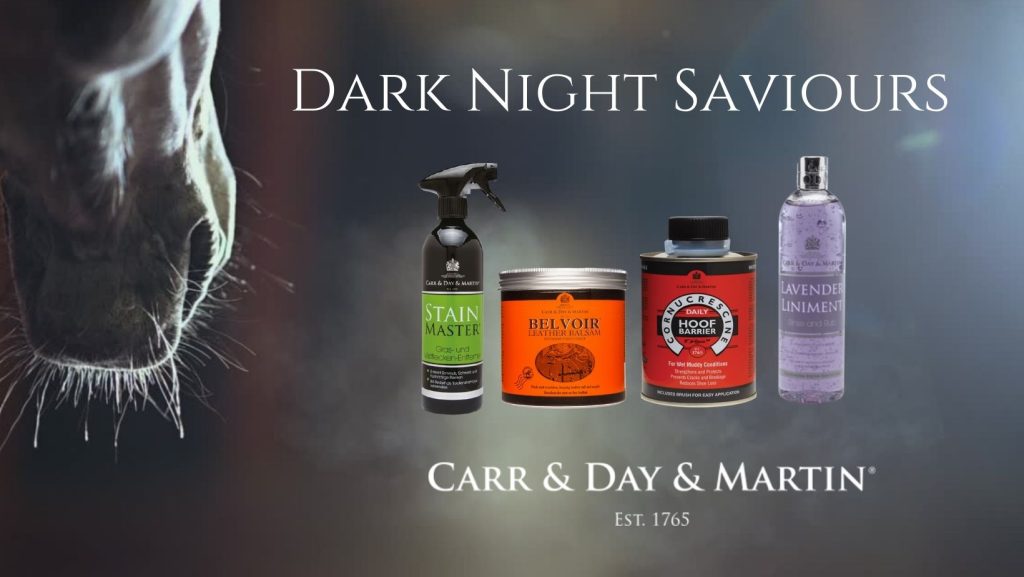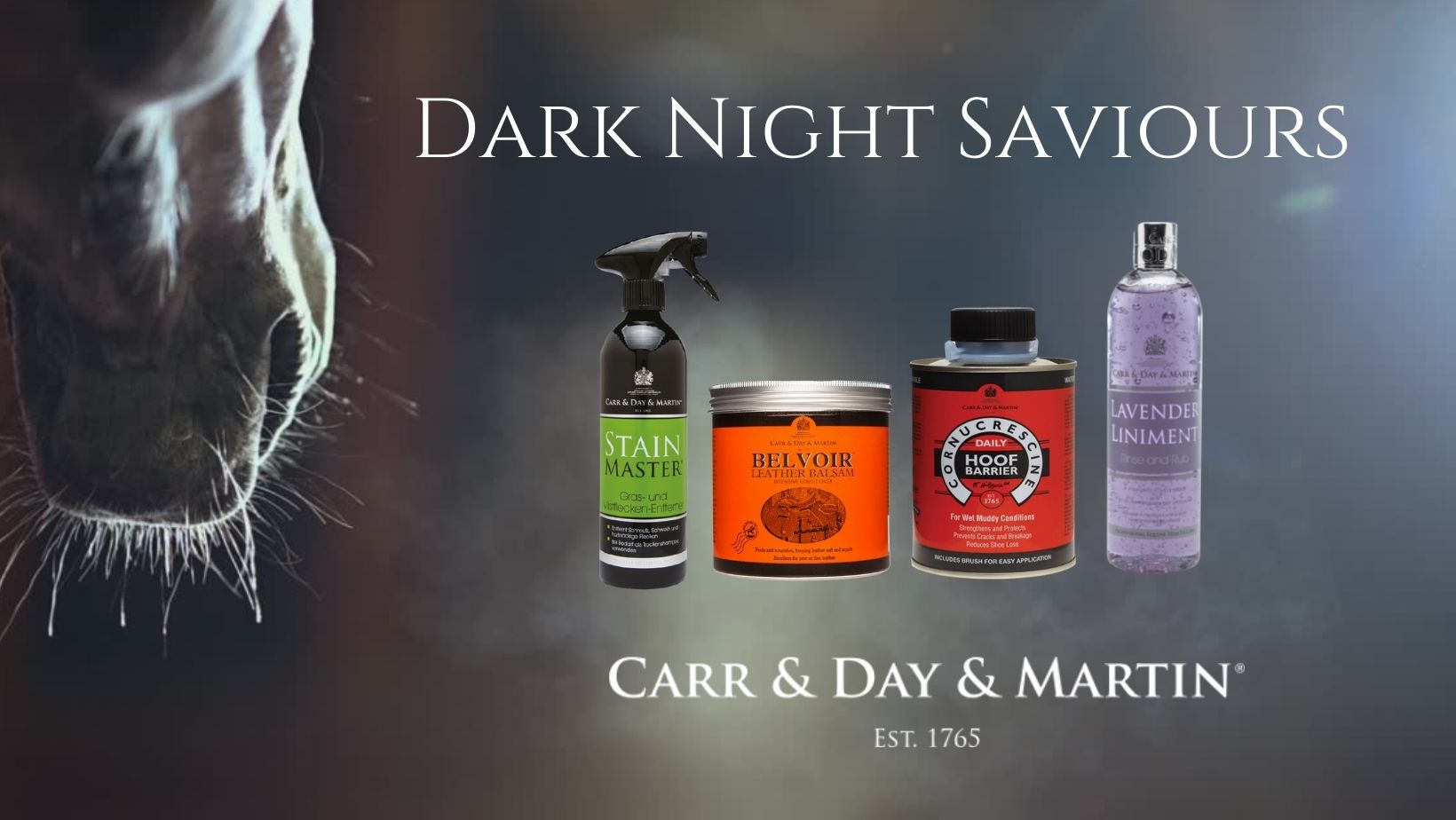 Make grooming easier this winter with our dark night saviours!
We'd love to hear your dark night grooming tips and stories or if you have a question
Share on Facebook & Instagram @carrdaymartin #youcarewecare

---