Caroline Davis from Carr & Day & Martin recaps on the inaugural Treegrove Riding Club Showing Clinic last Sunday which we we're delighted to support.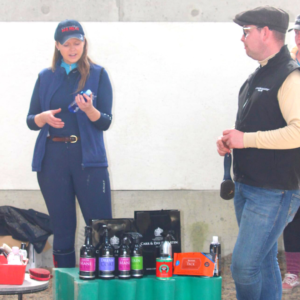 Show Rider, producer, judge, and Carr & Day & Martin rider, Shane McKenna hosted several working hunter and flat classes, guiding participants through the do's and don'ts of showing.
We were especially excited to be a part of the Turnout Session where Shane demonstrated tail pulling, how to apply quarter marks and guided us through how to stich plaits (we were all in awe).
We all know what it is like to start our show prep; wanting to get it right and do the best we can throughout the season.  Shane's expertise and demonstrations were extremely helpful and insightful and got us all thinking about our own show prep and needs with our own horses, which generated a lot of questions.
"As an amateur show rider myself, I found the session so helpful and I was delighted to be on hand, alongside Shane to answer questions and recommend some helpful products." – Caroline
Before we kick on, a little about Carr & Day & Martin, but you can call us CDM.
Carr & Day & Martin is the world's oldest company involved in the manufacturing of horse care products.  Founded in 1765 we have held a Royal Warrant since the reign of King George IV and still hold the Royal Warrant today for the supply of quality saddlery care products to Her Majesty Queen Elizabeth II.
We are dedicated to producing super premium yet affordable products that provide a complete care programme for our customers. Unlike many companies today, we actually manufacture our own products in our own factory which is now in Purcellsinch, Kilkenny!
In 2020 we were acquired by Connolly's RED MILLS, world renowned equine nutrition and feed company who also own and manufacture Foran Equine supplements as part of their equine portfolio. The acquisition of Carr & Day & Martin demonstrates their commitment to offering customers the ultimate range of equine care products, putting the horse at the centre of everything we do! The three brands together offer the ultimate equine care package and with us you can #NourishSupportCare
We started with the tail pulling and tail management, first up was our world favourite, Canter Mane & Tail
Canter Mane & Tail Conditioner is never equalled in its ability to keep the mane and tail sleek, tangle-free and luxuriously soft. This powerful detangler is our most popular product and is a favourite around the world. This original, long-lasting conditioner makes grooming quick and easy, and reduces hair breakage all while leaving an immaculate, oil free shine.
Apply to wet or dry tails, and experience tangle free grooming for up to two weeks. You already have enough to be worrying about on the morning of a show, so eliminate the need to be battling with a course, knotted tail and wasting precious minutes picking out shavings and straw. With Canter Mane & Tail, your brush or fingers will glide effortlessly through the tail with unwanted dirt falling effortlessly away.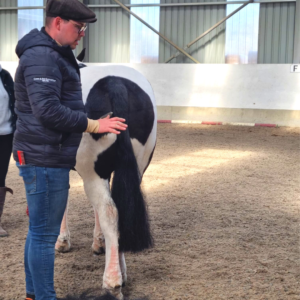 Trust us, you'll thank us later!
As much as this powerful detangler works wonders at any time of the year, for show prep it is important to do all the right things when it comes to grooming and horse care.
We recommend washing the tail… and mane of course as part of a full bath, and our range of Gallop shampoos include something for your every need.
Even with thorough, regimental grooming, sometimes your horse just needs a good bath to get them clean. Each of our shampoos are specifically formulated to help you manage your horses skin and coat, whether you need a deep down clean, help solving sensitive, skin problems or you are getting ready for a show.
Let's start with our EVERYDAY SHAMPOOS
Gallop Medicated Shampoo – A SHANE MC KENNA FAVOURITE
A high specification formula ideal for dry, flaky, itchy, scurfy and sensitive skin. Soothes and calms irritated, sore, damaged and sensitive skin. The pH neutral formula contains natural oils that helps soften and lift scabs and dandruff. Provides exceptional conditioning, noticeably softer hair and a shiny coat.
Even for coats in seemingly great condition – this is one of our favourites too as it's a great way to cleanse away the winter and create a gorgeous fresh coat to start the season with.
Gallop Conditioning Shampoo has a distinctive, traditional aroma that removes dirt, sweat and grease from the coat and is suitable for routine use. Thanks to the low foaming formula, it is quick to use and easy to rinse.
Gallop Extra Strength Shampoo is an extra thick shampoo with double the level of active ingredients for superior cleaning. Great for really dirty, greasy or light-coloured horses, or the first wash of the year to leave the coat clean and shiny.
Gallop Stain Removing Shampoo is an extra thick, concentrated, purple formula with powerful stain removing properties to enable you to remove the most stubborn and ingrained grass and stable stains. Ideal for light coloured horses and problem areas such as knees and hocks. Cleans whiter than white – even removes manure yellowing, yet still kind on sensitive skin.
Now let's talk SHOW RING SHINE!
Experience that Carr & Day & Martin effect with our GALLOP Colour Enhancing Shampoos.
Gallop Colour Enhancing Shampoos are uniquely formulated luxury shampoos available for every colour of horse. The shampoos can be used routinely but are ideal for show preparation for that extra edge. These shampoos use colour enhancers and optical brighteners to intensify the natural coat colour to a show ring standard.
Available for: Bay, Black, Grey, Palomino and Chestnut
An exact match to a horse's natural coat colour is not necessary to achieve stunning results.
Ok so now our manes, tails and coats are in pristine condition – but we all  need to up our game and leave no stone unturned so when you think grooming finishing touches, think Dreamcoat!
Outshine the competition with Dreamcoat, the ultimate high gloss finish. The unique non-slip formula highlights muscle definition and can be used on the saddle patch, leaving no grease or residue.  Use before, during and after applying your quarter marks to make them really pop and hold them for the day. Did you know,  you can also spray Dreamcoat onto manes prior to plaiting for a high shine finish and it helps with grips and control those flyaway hairs we all hate.
An added bonus is, it smells divine, Dreamcoat's fine mist spray leaves an invigorating lemongrass scent… your horse will smell better than you.
Now here is one for all the grey horse owners …. We feel for you, but we're here for you. Get yourself our Stain Master, it will change your life.
Stain Master can also be used as a dry shampoo when it's too cold to bath. You are welcome!
It all sounds so easy, but we understand it's not always straight forward. The show prep discussion unearthed a lot of queries about itching and hair breakages. There's nothing worse than putting all that time, effort and money into the season, only to be faced with constant itching resulting in mane, tail and hair loss.
Carr & Day & Martin have a new product called Itchgard which is a grooming kit essential for any itchy horse owner.
A soothing, non-greasy lotion derived from plant extracts including Lemongrass, Marigold, Geranium and Menthol Oils, to calm and cool irritated skin on horses troubled by itching. This easy-to-use topical treatment aids in preventing rubbing following nuisance insects' bites, or general skin irritation, by calming the skin and maintaining skin integrity. It really is a lovely lotion, I find myself rubbing it all over my hands after.
The extra bonus is that Itchgard also helps to reduce damage caused by rubbing to the Mane and Tail areas by conditioning and protecting skin and hair.
There's no better feeling than seeing itching stop, hair growing and the conditioning effect kicking in, turning a stressful situation into a sense of relief.
If you are in a situation where your horse needs urgent hair growth support, let us introduce you to the wonders of the old classic Cornucrescine Original Hoof Ointment. A unique, traditional formula used and trusted for generations to promote healthy hoof growth, but it is also famous for encouraging hair growth!
On the topic of rubbing and hair growth, another common issue we discussed was annoying rug rubbing, especially on the withers and shoulders.  We have another coat conditioning spray in our range which is ideal in this scenario and comes with so many more added bonuses.
We love the reassurance it offers when it comes to preventing rug rubbing but for those horses that find every drop of dirt and make sure they cover themselves in it, like my beloved horse, Red, Canter Coat Shine is a must have. The conditioning effect actually helps prevent dirt and mud sticking. We all love grooming and that time with our horses but sometimes you need some support, and this is perfect for that. Breathe a sign of relief when your horse has perfect shoulders and you've less dirt and mud to remove 😊 more time for polos and selfies! Just me?
Shane finished off the session by showing the group proper show tack and the importance of wearing the correct tack for your class. As a judge, Shane explained how he's looking at the whole picture and good showing etiquette involves complete turnout so yes that includes your tack. And judges notice everything so a quick baby wipe before your clean just won't do.
Fear not, we understand tack cleaning can sometimes be pushed down the priority list, but our new product in the Leather Care range is here to help.
Leather Care
Introducing our NEW and exclusive Belvoir Cleaning Mitts for a no mess, no fuss leather cleaning solution.
Each pack contains 10 x sustainable, biodegradable bamboo derived Mitts. Belvoir Tack Cleaner Mitts are designed for you to use like a glove resulting in the ultimate easy and effective tack cleaning experience. Clean both sides of your leather in one easy wipe faster and make cleaning those hard-to-reach areas and intricate details of tack much easier. Includes a turning tab to easily use both sides and can also be used inside out especially for very dirty tack for extra cleaning power, resulting in a deeper clean with a fresh wipe each time versus with a sponge.
Quick and convenient, no water required – on the go essential to ensure your leather is ready to shine at any event. Additionally they can be used for wiping down riding boots, bits and bridles. Rinse the Mitt and wipe down the tack room after you're finished.
For best results use Belvoir Step 2 Tack Conditioning Spray to soften, preserve and shine your leather.
Now you're show ready with Carr & Day & Martin!
Whilst the everyday grooming and finishing touches are essential and fun … our horses well-being is paramount. Yes it's a minefield and we all do everything we can to avoid issues like mud fever and minor wounds, but horses will be  horses are some ailments are inevitable.
We've two particular products from our Health Care range which are grooming kit/first aid essentials. Wound Cream and Protection Plus.
Wound Cream
Advanced, scientific formula allows the skin to breathe freely and heal 'correctly' in beneficial moist conditions, helping to reduce healing time of minor cuts, scratches and abrasions. Comes in an easy-to-use pump bottle for hygienic application to prevent cross-contamination. Great for minor wounds and also suitable for skin conditions such as mud fever.
Protection Plus
This pink ointment with a citronella scent has numerous uses. A salve to protect and waterproof wounds that is ideal to act as a barrier against mud fever and similar conditions.
We hope you've enjoyed this insight to a few of our showing essentials but we many more products to offer.
Steeped in history, the comprehensive range encompasses four distinct care categories: Leather, Coat, Hoof and Health Care which provide a 'one-stop shop' for any horse owner in any discipline.
We're always on hand to answer any questions – drop us a message on Facebook or Instagram or email [email protected]
Best of luck to everyone this season and please please remember to tag us on your show prep and results stories @carrdaymartin #YouCareWeCare 😊
---