Our lives as equestrians and horse enthusiasts go far beyond our time spent in the saddle. The affection we have for our horses is evident in the moments we dedicate to bonding with them—nurturing, cherishing, and grooming them. These instances are when indelible memories are created, and authentic connections are solidified.
At Carr & Day & Martin, we understand the significance of this time spent with our horses because we, too, are passionate about these magnificent creatures. That's why, for centuries, we've been refining products that maintain the cleanliness and well-being of horses' coats, allowing us to relish more moments with our equine companions.
For over two centuries, equestrians have passed down our products because horse care is more than just a duty; it's a devotion that demands nothing less than the finest for our equine friends. Our dedication, and our commitment, is to offer premium products that endure the test of time. By utilizing top-quality ingredients at optimal levels, we ensure that our customers can have complete confidence when it comes to grooming.
Our commitment doesn't stop there; it also extends to environmental protection. Today, all our containers are recyclable, and our spray bottles are made of aluminium, enabling them to be reused with our 5L refills. We have reduced our plastic usage to 23% and continue our efforts to minimize plastic consumption and lessen our environmental footprint.

Maintaining Optimal Equine Health from Head to Tail
An experienced horse enthusiast understands that a lustrous coat is a result of proper nutrition, a well-rounded exercise routine, and daily grooming using top-notch products. This is where we step in. When you step into the show arena, the last thing you want to concern yourself with is the appearance of your horse. With Canter Mane & Tail Conditioner, Canter Coat Shine, Dreamcoat, and Stain Master, you can concentrate on your riding and delegate the grooming responsibilities to us.
Explore the World's Premier Detangling Solution Trusted by equestrians from various disciplines in over 70 countries!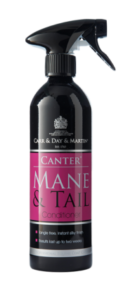 The Preferred Choice for Horse Care Professionals
Margo Thomas, Groom for U.S. Showjumper Laura Kraut
"I couldn't live without Canter Mane & Tail conditioner spray. It doesn't dry out the tail or make it brittle and keeps it detangled for days. Unlike other products, I can spray Mane & Tail in and still be able to comb the horses' tails out three days later and they're still nice and fluffy. It prevents me from having to wash tails every day!"  
Paula Kallmünzer 
Groom for Jessica
 von Bredow-Werndl
, Tokyo 2021 Olympic Games
"My favourite product is Canter Mane & Tail. I really like it because you don't have to spray it in every day. The tail stays smooth and it's easy to get through even two days after spraying it in. The horse's fur you can get it clean with brushes and give it the extra touch with product but the tail is hard to do it. You have to do it with your hands piece by piece and it's time consuming, so I like it when it's ready. I also like the smell." 
For Tokyo, Kallmünzer had a checklist for the grooming supplies and Canter Mane & Tail had to be on that list. "It just makes the grooming a lot easier. When you're in a rush to go to the prize giving the finishing touches have to be quick to make the horse look perfect after the ride."  
Catherine Haddad Staller, U.S. FEI Dressage Competitor and Co-owner of NorCordia USA
"A good tail detangler is very important. The tail is the flag of the horse and can make a difference in the appearance of how the horse goes in a test. It's also important when trying to grow the tail. Canter Mane & Tail helps with a lot less breakage and better appearance over time."
All of our bottles are recyclable, and our spray bottles are crafted from aluminium, enabling their reuse with our 5L refills. We have now achieved a 77% reduction in plastic usage and remain dedicated to contributing to lower plastic consumption and minimize our environmental footprint.

---