How did you get involved with horses?
I was extremely fortunate to be born into horses. Mom would have grown up competing all her life and dad had a huge love for horses. As young as I can remember I've been on ponies.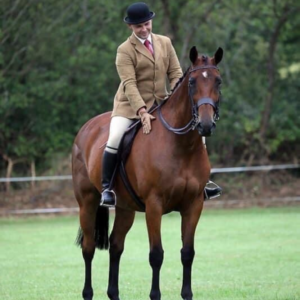 What kind of horses have you worked with over the years?
I have worked in a few different spheres of the equine industry, which has helped me become the person I am today. It started with helping Angus McNamara who was the hunt master of the Limerick harriers getting the horses fit and schooled for hunting. I went on from there to work in a eventing yard which I managed for a few years, following from the eventing yard I broke into the thoroughbred industry. Where I began to ride out for the late Andrew McNamara, covering for a lad who had broken his arm. This gave me the taste for race horses.
Following on from Andrews I went and worked for his nephew the late JT McNamara where I worked in his pre training yard, breaking and pre training young national hunt horses. After JT sadly passed away I progressed with the knowledge I learned from him to work for Luke Barry at Manister House Stud. Which lead me into the thoroughbred sales industry. Where I prep flat bred yearlings to national hunt store horses for sales and travelled with them to all the sales. I also worked for Katie Walsh and Katie McGivern at the breeze up sales, Eddie O'Leary for book 1 yearling sales, Peter Nolan for national hunt sales , Anna Sunstrom where I worked the French sales. After a good few years travelling from sale to sale and home, I felt the need to come back and finally do horses for myself.
Which has brought me to where I am today producing show horses.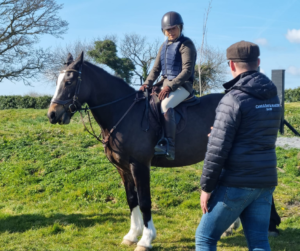 What has been the highlight of your career so far?
There has been a few highlights, starting from the days of when I competed in the IPS I won Intermediate Champion of Ireland at the National Awards on Apache Legend. This horse only standing 158cm brought me from IPS to placing in horse classes at the RDS where he stood reserve champion in the coloured class.
Another highlight would have to be Birchill Casanova whom I broke and produced he went onto winning and standing champion at the RDS and winning the small hunters at the RUAS Balmoral which the super Rachel Moore rode for me. Another horse which I was lucky to have great success on was Apache Pinto having two reserve champions at the RDS.
A huge highlight in my career was producing a show horses was called Baskin kapuka a large riding horse. She never stood below second in any class she was in and placed in every championship and supreme she stood in, a horse of a life time but unfortunately due to Covid there was no RDS for us to compete at. I also dabbled a little in the dressage world thanks to the amazing Vitality Halstyan where I was reserve champion at medium level at the winter finals in Cavan. There has been a few more highlights and also in my career as a coach with my student going onto winning Balmoral & RDS championship and winning in the UK.
Has there been a special horse in your career so far and why?
There has been a few horses that I'm very grateful for but I think Apache Legend is the horse in which I am the most thankful to. He was the horse of a lifetime who we very sadly lost to colic. Larry as we knew him at home, helped me learn so much and he forgave my mistakes. Apache Legend was as competitive as I was in the competition ring. He used to light up when he knew he was going to a show and loved his job so very much.
There has been also a horse and owner I'm very grateful and thankful for is Róisín Henry's and Jones horse Walley. I had a bad fall last August where a saddle slipped and I hit the deck and shattered my talus bone in my ankle ,which I had major surgery on, not knowing will I ever ride again. Thanks to Vitaliy and Róisín who got me back on board Walley who helped me back to riding a yard full of horses. I'm extremely grateful to Walley for all he has done for me.
Who do admire most within the equine industry and why?
There are many people in the industry I look up to and thank. As I was growing up I would sit outside the horse rings and watch Richard Iggleton, Jane Bradbury, Jennifer Kennedy, Rosemary O'Connors, Lesley jones and Philip Scott. I would always say to myself I want to be like them. It's from watching these amazing talented horse people that it gave me drive to be who I am today.
What is your favourite part of showing?
There are many reason why I love showing. From show ring etiquette to having the horses look and ride like clock work. Showing is amazing for young horses to correctly school them on the flat and also jumping for working hunter classes. Showing is about the finesse, the elegance and the etiquette of having these big weight carrying horses to move across the ground with sheer power and yet look so perfectly well behaved, light in the hand so that any judge may it be a lady or gentleman can climb aboard and enjoy the ride. It teaches horses manners to ride in a group and to perform on their own.
What products are always in your grooming kit?
My grooming basket for the ring would always have Canter Mane & Tail detangler, Hoof Oil, Tack Cleaner, hair spray and horse make up. Carr & Day & Martin Dreamcoat is my ultimate must have in my grooming basket. Especially for those quick shine ups before and in the ring it hold quarter marking so very well and the horses coats just look flawless without being slippery or heavy on the horses coats.
Do you have a favourite Carr & Day & Martin product?
My absolute favourite products from Carr & Day & Martin would have the be the Dreamcoat, it leaves the horses coats like silk or satin. The natural high shine from it is amazing it's perfect to showing off my horses muscle definition. It's also amazing during the off season for protecting the horses coats from rug rubs, I use it all year round I can really see the difference in my horses coats. It's that professional finish to stand out in the completion ring. My other must have is the Belvoir Tack Cleaner Step 1 and Conditioner Step 2. There is nothing worse than looking at a horse who's so very well polished and the tack not clean or having a nice shine to it.
Do you have one must do top tip for getting your horse looking their best at competition?
My top tip for getting horses looking amazing for the show ring is a good grooming routine at home. Each of my horses will be groomed and strapped every evening. Using a good shampoo once a week like the Gallop Colour Shampoo followed by the Gallop Conditioner and finish with Coat Shine. When the horse is all washed and clean and after grooming them, I love to use a dry cloth to enhance the horses natural oils in their coats. It's also amazing to rub out any tight muscles by using a dry cloth your getting rid of any loose hairs or helping the coat lay the Correct way. Also wetting over the mane and the top of the tail every day helps with plaiting and pulling the mane and tail.
What are your plans for competing in the future?
I've a nice string of horses and a good team of clients/students this year for shows like Balmoral, RDS and shows in UK for HOYS and RIH qualifiers, so a busy season ahead. It's fantastic to be back out competing with huge credit to the shows for coming back bigger and better.
What is the best bit of advice you were ever given?
The best advice I was ever given was horses take time, a problem won't be solved in one session. They're not robots they're going to make mistake but that's okay as you have tomorrow to come back out and try.
Each horse has a key and it's up to us to figure out that key. No two horses are the same and shouldn't be treated the same. They all have there own personalities which should be celebrated not disciplined.
My best advice to give to any young person starting off is to listen and don't let a little success go to your heads. Everyday with horses is a learning day and every person you meet you can learn from(also make sure your girth is tight).
---